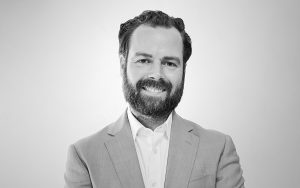 S360's San Diego office is building a client-centered practice with the addition of Ryan Karlsgodt.
San Diego, CA – After only five months in operation, Strategies 360's newest office is growing with the addition of Ryan Karlsgodt as Senior Associate. Ryan is responsible for managing day to day aspects of client needs. Clients benefit from Ryan's range of experiences in political and corporate research, communications, public-private partnerships, climate policy, international development and community organizing.
"Ryan brings a global view to local issues," said Sid Voorakkara, Senior Vice President of Strategies 360 San Diego. "He has demonstrated throughout his career an ability to manage any project, big or small, to achieve great results, earning him the trust and respect of the people he has worked with. I am pleased to welcome Ryan to our team."
Most recently, Ryan was a research analyst for UNITE HERE! Local 30, San Diego's hotel and hospitality workers union. There, he was responsible for coalition building, pursuing Local 30's policy goals at the Port of San Diego, and tracking hotel development within the five cities on San Diego Bay.
Born and raised in San Diego County, Ryan left to pursue a career in national politics and Federal government. He began at the Democratic Congressional Campaign Committee, where he quickly rose through the ranks in research until he joined the research team for President Barack Obama's 2012 reelection campaign.
Ryan then joined the Administration in the White House Office of Presidential Personnel where he helped coordinate political appointments. In the last two years of the Obama Administration, Ryan was a Presidential appointee in the Office of Global Climate Change at the U.S. Agency for International Development. A highlight of his career was working with U.S. government staff at the 21st Conference of the Parties of the U.N. Framework Convention on Climate Change to achieve the historic Paris Agreement in December 2015.
"S360's San Diego practice has grown significantly because they continue to lead with their values and commit to making positive change in their community, which is especially critical in these times," said Ron Dotzauer, Founder and CEO of Strategies 360. "With the support of this dynamic and enthusiastic team, clients will successfully navigate their most pressing challenges." 
Ryan is currently Secretary of the Board at Citizens Coordinate for Century 3, a nonprofit dedicated to smart city planning and citizen engagement in the San Diego region. He also serves in advisory roles for the San Diego Green New Deal Alliance and the Kim Center for Social Balance, which aims to reduce gender inequality in the workplace.
S360 San Diego opened its doors in early March of 2020.