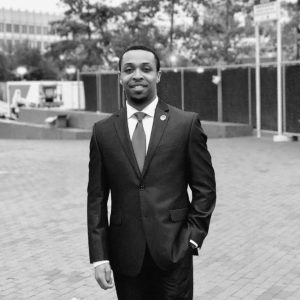 Obai Rambo joins Strategies 360's government affairs practice after serving in Senator Kamala Harris' Bay Area field office.
San Francisco, CA – Strategies 360's Northern California practice is growing with the addition of Obai Rambo as Director of Government Relations and Community Affairs. In this role, he will guide Bay Area clients through policy and community building practices that support their goals in California. Driven to design solutions that move society forward, Obai will offer innovative and thoughtful plans for clients working through legislation, communications, and community engagement.
"Obai brings his passion and energy to every project he works on, making a bigger impact on the outcomes to some of California's most pressing issues," said Timothy Burr Jr., Senior Vice President of Strategies 360's Northern California office. "Our clients will benefit from his ability to build strong coalitions and consensus across diverse interests while connecting the dots on complex issues."
An activist at heart, Obai was involved in politics before he was old enough to vote. Born in the Bay Area with deep roots in San Francisco and Vallejo, Obai earned his degree in Political Science at the University of California, Berkeley. Obai was selected as a California State Assembly Fellow and then went on to serve as a legislative aide in the California State Legislature. There he tracked, updated and advised on policy related to health, education, business, transportation, labor and technology. His collaborative work and stakeholder engagement helped usher multiple bills through the legislature.
Obai has since worked in private and governmental roles on both coasts. While earning his Master's in Public Policy with a concentration on Housing and Urban Development at Columbia University, he worked as an Administrative Policy Officer for the City of New York. There he developed a deep knowledge of city processes and found solutions to improve customer service while saving time and streamlining operations. He also acted as a Project Manager for a California-based government affairs agency, where he managed a team working on land use interests and developed projects in support of the company's non-profit activities.
Prior to joining S360, Obai served as the Bay Area Field Representative for U.S. Senator Kamala Harris. In this role, he led and managed the Senator's statewide coordination efforts to secure a complete and accurate Census count along with a team of eight. He also developed policy and strategic recommendations, acted as a liaison with Bay Area leaders, and built community outreach plans in the region for the Senator. Obai offered insightful advice and practical solutions on an array of critical issues facing Californians, including housing and homelessness, healthcare, and environmental policy.
"Obai is a driven operative with a track record of guiding winning solutions through policy and public engagement,"said Ron Dotzauer, Founder and CEO of Strategies 360. "And, he is just getting started. I have no doubt that we are going to see great things from Obai at Strategies 360."
Obai joined S360's Northern California office – based out of San Francisco – on August 17. You can reach him at ObaiR@strategies360.com.