STRATEGIES 360 RELEASES EXCLUSIVE POLL WITH NBC MONTANA
The statewide poll provides new perspectives on how voters view the Presidential, Senate, House, Governor's, and State Superintendent races 
Helena, MT — With Montana as one of the top priorities for both political parties on nearly every top ticket race this election season, NBC Montana partnered with Strategies 360's nationally-recognized public opinion research team to find out how campaigns are influencing voters' decisions as mail ballots are sent in and communities prepare for Election Day. S360 Montana's leads and political analysts, Melissa Shannon and Glenn Oppel, will be breaking down the results on NBC Montana beginning Thursday, October 22.
At the time of the release, according to the Secretary of State website, 45% of registered voters had cast ballots with 46,000 ballots returned yesterday alone.
As one of the only public polls in the field during this election cycle, the poll shows the U.S. Senate race between Governor Steve Bullock and Sen. Steve Daines in a near dead heat.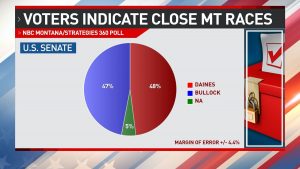 The U.S. House race between Kathleen Williams and State Auditor Matthew Rosendale is another tight one, seeing both candidates polling at 46%.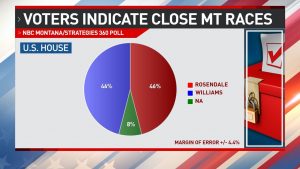 In Montana's hotly contested gubernatorial race between Rep. Greg Gianforte and Lt. Governor Mike Cooney, Gianforte has a 7% lead – outside the margin of error.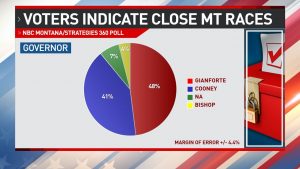 The rematch between current Superintendent Public Instruction (SPI) Elsie Arntzen and former Montana Teacher of the Year, Melissa Romano, has Romano leading Arntzen slightly, but within the margin of error and with a higher percentage of undecided voters than any other race surveyed.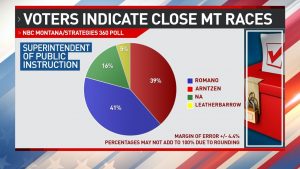 The insight provided by the S360/NBC Montana poll reveals Vice President Joe Biden is trailing President Donald Trump by 8 points, with 4% of surveyed voters remaining undecided.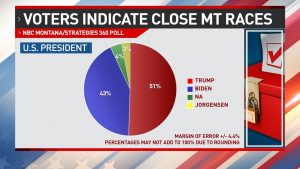 "NBC Montana is excited to partner with Strategies 360 during this historic election season," said NBC Montana News Director Chris Avery. "This partnership and opportunity to offer data on key races, including Senate, House and Governor is unique. Melissa Shannon and Glenn Oppel offer distinct context that is unmatched in the Treasure State."
Statement on methodology: Strategies 360 conducted a mixed-mode survey of 500 likely November 2020 voters in Montana. Interviews were conducted October 15th-20th, 2020. A combination of landlines, cell phones, and voter file-based online interviews via text message were used to ensure greater coverage of the population sampled.
The margin of error for a survey of 500 interviews is ±4.4% at the 95% confidence interval. The margin of error is higher for subsamples. Other sources of error not accounted for by the stated statistical margin of error include, but are not limited to, question wording, question order, coverage bias, and response bias.