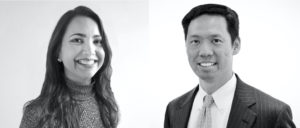 Phillip Kennedy-Wong and Michelle Plambeck bring state, local and city-level government affairs expertise to S360's Oregon clients.
Portland, OR – Oregon's leading public and government relations firm, Strategies 360, has expanded its team of experts with the addition of Michelle Plambeck as Vice President of Government Affairs and Phillip Kennedy-Wong as Senior Director of Government Affairs.
"Our practice has been at the forefront of some of the most impactful policies in the state," said Amy Ruiz, Senior Vice President of Strategies 360's Oregon office. "With Michelle and Phillip on board, we know that S360 can do even more to serve Oregon with thoughtful, progressive policies built through coalition, consensus, and sharp strategy. They both share our firm's deep commitment to driving equitable outcomes at the state and local levels."
Michelle will head up the growing local government relations practice focusing on jurisdictions and issues in the Portland metro area, including the City of Portland. With more than a decade of experience working in state and local government, Michelle has advocated for an array of social justice, education, human services, public safety system, and housing policies.
Most recently, Michelle worked for Prosper Portland, the City's economic development and redevelopment agency, to update their equity goals and translate those goals into concrete budget proposals. She also recently worked for Mayor Ted Wheeler as Legislative Director where she helped create, promote, and implement the Mayor's legislative agenda, and focused on policy solutions to the city's housing and homelessness challenges.
Phillip brings nearly two decades of expertise in community relations, political communications, and legislative coalition building at state and local levels. At S360, Phillip helps clients navigate state government, making connections with people in and out of the Capitol to help meet their unique goals from funding needs to policy initiatives.
Prior to joining S360, Phillip led the Oregon Food Bank's state advocacy program where he successfully acquired public funds and advanced policies to fight hunger. Previously, he was the chief lobbyist for Multnomah County. Beyond food policy, Phillip has issue expertise in Oregon's workforce system, human services, and childcare. His experience, training, and background on equity provide a unique support when crafting culturally appropriate communications around socially sensitive issues affecting our clients.
"Phillip and Michelle bring a wealth of knowledge and experience to our practice," said Dave Hunt, Senior Vice President of Strategies 360 Oregon. "They are both effective strategists and advocates who have built positive working relationships in all bodies of government."
S360 Oregon is a powerful force advocating for thoughtful policies at state and local levels of government. The S360 government relations team is proud to work on the most pressing issues facing Oregon, including criminal justice and healthcare reforms, housing access and affordability, education funding and environmental protections.
"Strategies' Oregon office is packed with pros," said Ron Dotzauer, Founder and CEO of Strategies 360. "From former elected leaders to campaign directors to savvy strategists from respected Oregon institutions, it's no wonder that the S360 Oregon team continues to deliver big wins for clients while attracting top-tier talent to join their efforts."
With the addition of Michelle and Phillip, the S360 Oregon office is now a team of eleven working toward positive progressive change in the state. The S360 Oregon team works on integrated projects, bringing their collective expertise in government affairs, ballot measure and other advocacy campaigns, strategic and crisis communications, coalition building and public engagement to best serve each client's unique needs.