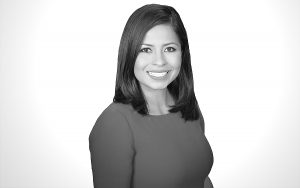 S360 Cultura, headed by Ylenia Aguilar, will deliver culturally relevant services across Strategies 360's footprint to engage with communities of color. 
Phoenix, AZ – Strategies 360 is thrilled to introduce S360 Cultura, our newest practice area focused on cultural engagement, outreach, and advocacy. S360 Cultura brings a new and different focus to the firm's long-held commitment to cultural understanding and engagement. Ylenia Aguilar acts as Vice President for S360 Cultura and will guide the Strategies team in Latino/a engagement strategies including translation services, community outreach and organizing, and contextualized research.
Before joining S360, Ylenia was a consultant providing strategic planning services for non-profits, businesses, governments and educational institutions across Arizona. In this capacity, she wielded her expertise for state and national initiatives and campaigns in the US and Mexico. She raised awareness on priority issues through outreach and communication activities, including community development and organizing. Ylenia's success comes from her ability to develop authentic relationships with traditional and non-traditional allies to drive thoughtful programs forward.
"Through S360 Cultura, we are further committing to the firm's founding principles of understanding regional and cultural nuance," said Ron Dotzauer, Founder and CEO of Strategies 360. "Ylenia brings proven leadership helping clients build complex relationships and connect with diverse communities."
With over 15 years as a professional translator/interpreter, Ylenia has dedicated herself to building connections on behalf of diverse communities. She has worked to ensure equitable access in education, healthcare, and public services through translation – acting as a medical and legal interpreter for multiple state and federal agencies, as well as private and non-profit groups.
Ylenia's work includes ongoing engagement with When We All Vote, a non-profit dedicated to achieving higher levels of public participation in elections. Her past work includes the build out of Helios Education Foundation's Playbook for increasing FASFA Completion in Arizona and UnidosUS's bill HCR2026, which would repeal Arizona's English-only standards in schools.
"I'm thrilled to be part of a dynamic team that values the needs of our diverse communities and embraces and celebrates our cultural differences," said Ylenia. "I look forward to designing services that meet the distinctive needs of our diverse clients."
S360 Cultura will help clients with coalition building, neighborhood and community development, Spanish translation, and program planning and execution aimed at connecting with culturally specific groups. As the West continues to grow and diversify, this new practice aims to serve S360 clients and communities with deep cultural understanding and unique solutions that catalyze lasting, positive change.
You can reach Ylenia at YleniaA@strategies360.com or at 602.252.2626.
More about S360 Cultura at www.strategies360.com/cultura