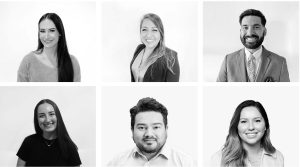 Presidio Communications has joined the S360 family to offer clients direct public engagement and policy solutions in the Orange County region. 
Irvine, CA – Strategies 360 continues to grow its California operations with the addition of an Orange County office. Boasting a six-person team of professionals, the Orange County office deeply understands the local community and provides comprehensive solutions that move client's goals forward in the region. Led by Daniel (Danny) Fierro and Samantha (Sam) Marquez, the Orange County team provides effective, tailored communications and policy solutions including political strategy, government relations, and public education and engagement, and voter outreach.
"Having a direct connection to Orange County and the surrounding regions with this whip-smart team is a game changer for our clients working in California," said Ron Dotzauer, Founder and CEO of Strategies 360. "The OC team is deeply connected to the local community and understands how to connect with a diverse plurality of constituents to move policies forward."
Danny is the founder of Presidio Communications, one of Orange County's leading public affairs firms, and one of only two minority-owned firms with more than five staff in the region of over three million people. 100% of the Orange County team is bi-lingual with an average age of 28 – reflecting the changing demographics of the region which has grown increasingly younger and more racially and ethnically diverse.
This energetic team of pros have an impressive roster of successes in Orange County. Amongst the incredible campaign wins from Presidio Communications, the team helped secure a $232 million bond for school improvement funds for Santa Ana Unified School District; ran the successful campaign to elect the nation's first openly gay Muslim city council member, Ahmad Zahra, in Fullerton; and assisted the Orange County Conservation Corps in becoming one of only two California state-chartered local conservation corps to be awarded a contract by the Governor's Office of Emergency Services to provide pandemic relief services. The Orange County team has deep expertise with public agencies, K-12 and college education, health districts, and city and county governments.
"We are so excited to be working with S360 to help us scale up and provide a quality of services at a speed and volume that we were previously unable to meet," said Danny Fierro, Senior Vice President of the Orange County practice. "This represents a huge expansion of our service offerings including digital marketing and web design, which are critical for our clients who are working on enrollment efforts or in need of direct action from the community."
For Strategies 360 clients, the Orange County practice will support on the ground voter engagement including direct mail campaigns, signature gathering and field campaigns and get out the vote efforts, done with in-house multicultural communications savvy. The team will also support S360's Cultura practice.
For Orange County clients, they can expect an expanded array of services offered in a one-stop-shop. This includes research and polling, videography, web design and development, and digital marketing strategy and execution, and general creative and design services.
Meet the Orange County Team:
Daniel (Danny) Fierro, Senior Vice President
Samantha (Sam) Marquez, Senior Vice President
Hannah Dragoo, Manager of Communications and Public Affairs
Erika Flores, Communications and Public Affairs Manager,
Josef Holper, Manager of Communications and Public Affairs
Allison Stewart, Associate of Communications and Digital Media