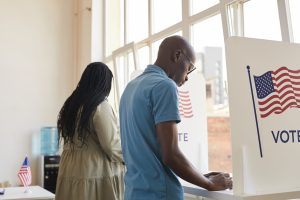 With 63 winning campaigns across 9 states, S360's teams delivered powerful impacts at the local, state, and federal level.
Seattle, WA – Strategies 360's campaigns team, which includes a dedicated division in the Seattle HQ and operatives throughout the firm's footprint, delivered major election wins during the 2022 general election cycle, resulting in 63 victories and over $2 billion in new revenues for local communities across the country.
"Our campaigns team leveraged every service S360 offers to deliver an incredible number of winning outcomes this election cycle," said Ron Dotzauer, Founder and CEO of Strategies 360. "I am proud of the work we did, collaboratively across services and states, to help our candidate and ballot measure clients succeed."
S360 supported candidate and ballot measure clients with a wide variety of services, including general consulting, strategy and planning, polling and research, creative design and collateral, digital marketing, field organizing, fundraising, strategic communications, media relations, and more.
Highlights from the 2022 general election cycle include:
Our campaign fundraising team, led by S360's Tribal fundraising expert in New Mexico, was proud to support Congresswoman Mary Peltola, the first ever Alaska Native to be elected to Congress, and the re-election of Congresswoman Sharice Davids of Kansas, one of the first Native American women elected to Congress. In Alaska, our teams collaborated closely across multiple states and practice areas with the Alaska Native community to promote Alaska Native voter turnout and registration efforts. This was a critically important year for the Get Out the Native Vote effort, given the challenges of voter access in rural Alaska and the implementation of a new ranked choice voting system.
In Arizona, our team supported major wins at a statewide level including Governor-Elect Katie Hobbs, Secretary of State Adrian Fontes, and Attorney General-Elect Kris Mayes. Working with education advocates the team also landed 3 state legislature wins –specifically spearheading efforts to elect State Senator Christine Marsh in the state's most competitive legislative district, 22 school board posts across 4 counties, and over half a billion dollars for local schools. Impressively, the Arizona team helped clinch the Gubernatorial win with a voter contact strategy that included over 100,000 direct mail pieces, 30,000 doors knocked, hundreds of thousands of calls to voters, and a statewide digital marketing campaign that reached millions of voters in just three weeks.
Another gubernatorial win came out of Hawaii. The S360 team served as the general consultant for newly elected Governor Josh Green through his successful primary and general election. In addition to overseeing campaign strategy, S360 also provided polling and research, strategic communications, creative services, and digital marketing to help deliver a resounding win.
The New Mexico team helped delivered the successful elections of Lt. Governor Howie Morales, Attorney General Elect Raul Torrez, and Secretary of State Maggie Toulouse Oliver.
The Oregon team not only won bond and levies totaling $753 million for schools and parks, but they also lead the communications for a ballot measure to formally remove slavery language from Oregon's constitution. While the state constitution banned slavery, the ban came with a loophole exception as punishment for a crime. S360's Oregon team successfully helped campaign to amend the state constitution to remove this language.
Washington's education team oversaw school district informational bond campaigns that secured over $1.2 billion for districts in the state. This team used the full suite of S360 services including public opinion research, communications planning and delivery, mailer and collateral development, and robust digital marketing strategies to reach each district's community with informational messages that resonated.
Congratulations to the many tireless advocates, and all the amazing S360 team members who are making a difference every day.
About S360:
With offices in 13 states, Washington, D.C. and Vancouver, B.C., Strategies 360 is the leading public affairs, communications, research, and marketing firm across the west. The firm also provides an in-house full service creative design and marketing practice. With experts drawn from the worlds of government, politics, the news media, quantitative and qualitative research, advertising, marketing and design, S360 crafts and executes the winning strategies that help clients succeed in shaping policy and business across the United States.