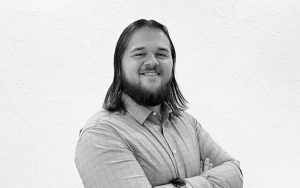 Maverick Ryan join S360's Public Affairs practice with a background in community stakeholder outreach and tribal relations following his service in the Office of Governor Inslee.
Seattle, WA – Maverick Ryan joins Strategies 360 as the Manager of Public Affairs in the firm's Seattle-based headquarters. With a background in public engagement, Maverick will help S360 clients conduct meaningful and productive outreach with community stakeholders and local elected officials. He also serves as a Tribal Council Member for the Cowlitz Indian Tribe where he is focused on open government and accountability measures, as well as revamping the Cowlitz Housing Authority.
"We are thrilled to have Maverick on our team," said Ron Dotzauer, Founder and CEO of Strategies 360. "He is deeply involved in many of the Northwest's most pressing issues and understands how to connect our client's priorities to the communities they need to engage."
As Deputy Director of Constituent Services in Governor's office, Maverick coordinated responses to business questions regarding Safe Start/Healthy Washington guidelines at the peak of the Coronavirus Pandemic. He also coordinated with agencies and policy experts to galvanize the public's understanding of the Governor's priorities and collaborated with the Governor's Washington D.C. office to extend the Governor's reach and maximize engagement.
"Across the west, community engagement has been a cornerstone of how we create and deliver meaningful solutions to the challenges of the day," said Kurt Beckett, COO of Strategies 360 and Senior Vice President of S360's Public Affairs practice. "Maverick brings the energy, passion, and know-how to effectively build bridges, especially in rural and tribal communities, to support our client's goals through inclusive engagement."
Born and raised on the Kitsap Peninsula, Maverick stays committed to the region through board leadership, including serving as a member of the Cowlitz Indian Tribal Council and the Board of the Port Orchard Historic Theater Foundation. In his role on the Cowlitz Indian Tribal Council, Maverick negotiates and communicates with federal, state and local governments, as well as consults those government bodies involved in the welfare of the Cowlitz Indian Tribe. For the Port Orchard Historic Theater Foundation, Maverick is a part of a group of community stakeholders working to restore a historic community cinema that has been closed for several years.
Maverick got his start in public engagement work with Rural Investment to Protect the Environment, a non-profit working with farmers to develop climate change policies that also protect rural economies. He has also previously served on the Olympic Natural Resource Center's Advisory Board, where he advised leadership on ways to unite researchers, students, professionals and the general public around forest and ocean management strategies.
You can reach Maverick Ryan here.