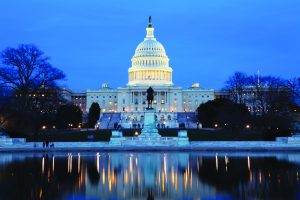 Securing funds for critical services and programs means healthier communities, stronger economies and more opportunities for people and places across the country. Federal appropriations provide significant resources to communities, which is why advocates regularly work to direct funding towards their efforts.
The federal appropriations process is a key area to focus advocacy, since programs can be expanded, cut, or kept the same on an annual basis.
Timeline of Congressional Appropriations
The federal fiscal year (FY) runs from October 1stto September 30th. For example, FY 2020 begins on October 1, 2019 and ends on September 30, 2020.
Advocacy groups conduct outreach to members of Congress and their staff to discuss program funding levels for the next fiscal year many months in advance. In recent years, Congress has rarely passed appropriations bills on time. Nevertheless, the process remains the same.
Here, we outline the three phases of advocacy: conducting outreach, submitting your request, and monitoring your request.
Phase I: Conducting Outreach (October – February)
At the start of the fiscal year, Congressional offices already start discussing appropriations for the next fiscal year.  During this time period, advocates should reach out to potential or existing congressional champions of your client's appropriations requests, as well as to relevant federal agencies that are likely to provide funding for your client.  Call the senator or representative's office and ask for the scheduler's contact information. Then follow up with an email requesting an in-person meeting with the member or a staff member handling the subject area of the appropriations request. Similarly, connect with the program officers who run the federal programs that fund your client's work.  During this time, communicate your client's priorities and explain why their work will help advance the agenda of the congressional member and the federal agency.
Phase II: Submitting Your Request (January – March/April)
Members of Congress submit their individual and group request letters to each of the twelve appropriations subcommittees (listed below) in March or April every year.  These subcommittees determine the funding levels for each federal program and produce twelve separate appropriations bills.  Advocacy groups must be mindful of their members' deadlines to ensure that their appropriations requests are considered.  Appropriations requests forms are usually available on the members' websites, but it is best to check with a staff member on how to submit these forms.
After all the appropriations requests are submitted, the House and Senate must pass a budget resolution that sets the total level of discretionary spending for the next fiscal year.  Based on this budget agreement, appropriators are allowed to make funding adjustments to most federal programs.  Exceptions include Social Security, Medicare, and other earned-benefit programs, which are off-budget and "mandatory spending" accounts that are decided outside of the annual appropriations process.  The target date for the budget resolution agreement is on April 15th.  
Phase III: Monitor Your Request (April – September)
Once discretionary funding limits have been determined, the funding process moves to the appropriations full committee and subcommittees in each chamber.  The 12 appropriations subcommittees determine program-by-program funding levels for the federal agencies under their jurisdiction.  At this stage, you may reach out to members that have assignments on the relevant appropriations subcommittees and engage these policymakers and their staff to track the progress of your funding requests.
The Appropriations Subcommittees (identical in the House and Senate):
Agriculture, Rural Development, Food and Drug Administration, and Related Agencies
Commerce, Justice, Science, and Related Agencies
Defense
Energy and Water Development
Financial Services and General Government
Homeland Security
Interior, Environment, and Related Agencies
Labor, Health and Human Services, Education, and Related Agencies
Legislative Branch
Military Construction, Veterans Affairs, and Related Agencies
State, Foreign Operations, and Related Agencies
Transportation, Housing and Development, and Related Agencies
As the fiscal year comes to an end, leadership in both Senate and House chambers must pass all twelve funding bills for the next fiscal year.  Leadership in both chambers often negotiate an "omnibus" appropriations bill combining all twelve bills, or "minibus" appropriations bills containing the twelve bills in smaller packages.  If Congress does not pass the appropriations bills on time, the federal government shuts down.  In recent years, Congress has often extended the deadline by passing short-term spending bills ("continuing resolutions") that maintain funding levels until the appropriations process is completed.
Working with your Strategies 360 Federal Team  
S360's Washington D.C. office is well equipped to support the firm's clients navigating the appropriations process. They can cut through red tape and direct team members to the right offices and staffers at each phase of the appropriations process.
If you have any questions about the appropriations process, please feel free to contact Andy Winer (andyw@strategies360.com) or Serena Li (serenal@strategies360.com).