Lt. Gov. joins S360 as Senior Vice President; Tsutsui hiring a part of firm's explosive growth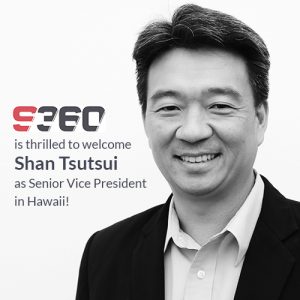 Honolulu, HI – Strategies 360 (S360) – the leading public affairs, research, communications and digital marketing firm in the West – is honored to officially welcome Shan Tsutsui as Senior Vice President to the firm's office in Hawaii.
Last Monday, news of Tsutsui stepping down as Hawaii Lieutenant Governor swept the state, and national reports announcing his resignation were featured on the biggest news sites across the county, from the Seattle Times to the Washington Post: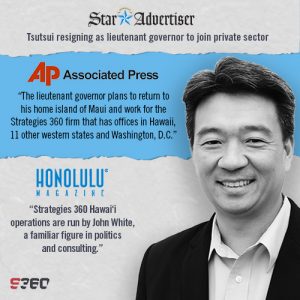 With last Wednesday marking his last day in public office, Tsutsui officially begins the next chapter of his 15-year career of public service to Hawaii.
"I look forward to continuing to be a part of Hawaii's future," Tsutsui said. "This new opportunity will allow me to build on my commitment to improving the lives of people in Hawaii by focusing on areas such as renewable energy, healthcare, education work, and partnerships with non-profits."
Tsutsui was appointed to lieutenant governor by Gov. Neil Abercrombie in 2012 and won the seat outright in 2014. During his time as one of Hawaii's top elected officials, Tsutsui earned a reputation as a respected consensus-builder, working effectively and cooperatively with leaders in the public and private sectors. He championed programs to help Hawaii's youth, such as the Resources for Enrichment, Athletics and Health (REACH) Initiative which has invested nearly $3 million in Hawaii's schools, and the Farm to School Initiative to help make school lunches healthier and locally sourced. Tsutsui also represented Maui in the Hawaii State Senate and served as Senate President.
"Shan Tsutsui has a skill set, a reputation, and a background that is unmatched in the state of Hawaii," said Co-founder and CEO, Ron Dotzauer. "His character is emblematic of the Change Maker ethos of S360, and we are humbled to have him join the firm."
Tsutsui will be joining the S360 Hawaii team led by veteran public affairs and economic-development strategist John White. The firm opened its Hawaii operations in 2016 and has grown to include Public Affairs Director Khara Jabola, Government Relations Director Will Kane, and Campaigns and Initiatives Manager Molly Pierce.
"Shan is joining the S360 team during a period of unprecedented growth," said Co-Founder and President Eric Sorenson. "He will be an invaluable resource as we continue to take on the kind of projects that will shape the contours of politics and culture for years to come."
The announcement in Hawaii comes on the heels of several other major expansions across the S360 footprint: in the month of January alone, S360 announced a new office in Sacramento and dramatic expansions in its California operations, as well as the addition of 14 new employees firm-wide.
S360 is the first public affairs firm in the West to offer a complete in-house digital, communications, and public opinion research practice. S360 combines its suite of unmatched service capabilities with a team of experts drawn from the worlds of government, politics, the news media, marketing and creative design to craft and execute strategies that help clients drive change throughout the West.
###