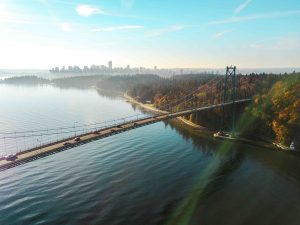 The merger between Gastown Strategy Group and Strategies 360 connects the public affairs practices across international lines through the Cascadia Corridor.
November 15, 2019
Vancouver, B.C. — Strategies 360 (S360), the West Coast's premier public affairs firm is expanding into Canada. The firm is merging with Vancouver B.C.'s Gastown Strategy Group, which will become the Canadian headquarters for S360. The office will provide a full range of services including public policy, advertising, communications, research, creative and digital marketing.
Headed by Michael Gardiner, the newly formed S360 office in Vancouver, will continue to serve Gastown Strategy Group's clients. Mr. Gardiner will lead a team of government relations professionals, including Stephen Howard as Vice President, Esmahan Razavi as Public Affairs Manager, and Jeff Andrus as Government Relations Manager. This team brings a collective seven decades of experience to share with clients.
"With this merger, we are adding deep expertise in advertising, digital marketing, communications and research to enhance our exceptional public affairs services," said Michael Gardiner, President of Strategies 360 Canada. "We are excited to expand our range of services to provide our clients a fully-integrated experience that spans the West Coast."
With offices from Anchorage to San Diego, and Honolulu to Washington, D.C., S360 is positioned to link cities and relationships in the Cascadia corridor and throughout North America, bringing cross-border initiatives under one roof.
Across the firm footprint, S360 represents private, public, and non-profit clients at local, regional, and national levels. The entry into Canada means that clients in the US and Canada will have seamless support for projects across international lines. With this expansion, S360 counts 21 total offices in 12 Western US states, Washington D.C., Jakarta, Indonesia and now Vancouver, British Columbia.
"We know the West is unique. It's home to some of the world's most innovative companies, passionate people, and forward-thinking public policy and engagement practices," said Ron Dotzauer, Founder and CEO of Strategies 360. "By adding British Columbia to our footprint, we are connecting our clients to leading experts across the Western seaboard. We are committed to creating lasting change and shared successes across the region."

Vancouver B.C. will be S360's first Canadian location, with future plans to expand offices across the country.
About Strategies 360:
With offices in 12 Western states, Washington, D.C., Jakarta, Indonesia and Vancouver, British Columbia, Strategies 360 is the leading public affairs, communications, research, and marketing firm in the west. The firm also owns and operates its own in-house creative design and marketing practice, The Hilt. With experts drawn from the worlds of government, politics, the news media, quantitative and qualitative research, advertising, marketing and design, S360 crafts and executes the winning strategies that help clients succeed in shaping policy and business across the West.
###