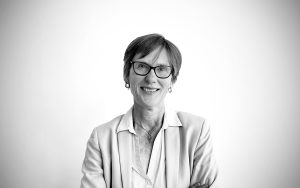 The former lawmaker and Minister of Transportation and Infrastructure will serve as Senior Advisor with Strategies 360's British Columbia practice.
Vancouver, B.C. — Claire Trevena has joined Strategies 360 in British Columbia after nearly two decades in public service as an elected Member of the Legislative Assembly (MLA) and as Minister of Transportation and Infrastructure for the province. Trevena brings a wealth of political and communications experience to her new role as Senior Advisor.
"Claire's body of work on behalf of the people of British Columbia is extraordinary," said Michael Gardiner. "She has the ability to work across political interests and with innovative ideas to effectively move projects in our province forward."
Trevena's successes as Minister of Transportation and Infrastructure include introducing ride hail to British Columbia; developing and implementing the province's first active transportation strategy; and developing a framework for project for labor agreements.
As an MLA in the New Democratic Party (NDP), Trevena represented the large rural constituency of North Island. Her legislative career included a broad range of opposition roles when the NDP was the minority party.
In these roles, she addressed issues from women's rights through childcare to social development and, of course, transportation and infrastructure. She spent time working on Legislative committees for Children and Families, Finance, and Sustainable Aquaculture. Trevena also served a term as a Deputy Speaker of the BC Legislature.
"Our clients can trust Claire's ability to see the big picture and blend social and community focused needs with policy and business to create win-win-win outcomes," said Ron Dotzauer, Founder and CEO of Strategies 360. "We are thrilled to have her on board to share her expertise, ideas and passion for creating positive change." 
Prior to entering electoral politics, Trevena worked as a lead on strategic communications projects both domestically and internationally. She was a spokesperson with the UN, was the Chief Communications Officer in the Organization for Security and Co-operation in Europe (OSCE) Mission in Kosovo as well as in Canadian and US sponsored missions abroad. She has also worked on voter access for Iraq, corporate governance in Macedonia and projects from Guatemala to Bosnia and Herzegovina. Her roots are in journalism where she was a reporter, producer and editor for the BBC, The Guardian (UK), and the CBC among other organizations.
Get to know more about Claire Trevena here.
About S360
With offices in 13 western U.S. states, Washington, D.C., Toronto, Ontario, and Vancouver, B.C., Strategies 360 is a leading public affairs, communications, research, and marketing firm. The firm also owns and operates its own in-house creative design and marketing practice. With experts drawn from the worlds of government, politics, the news media, quantitative and qualitative research, advertising, marketing, and design, S360 crafts and executes the winning strategies that help clients succeed in shaping policy and business across western North America.
###