By: Rachel Nakanishi
The Strategies 360 Education Team has been honored to partner with Seattle Public Schools on numerous projects for the past decade. In December 2020, our teams worked together to create and implement a marketing plan to recruit teachers of color to join the district. The work was recently honored with a Golden Achievement Award from the National School Public Relations Association.
Seattle Public Schools (SPS) is the largest school district in the pacific northwest, with enrollment around 50,000 students. SPS is committed to ensuring equitable access to education and has been focused on racial equity for at least ten years, and it was made official in the district's 2019 strategic plan, Seattle Excellence, which is laser-focused on supporting students "furthest from educational justice" or those students who have historically not been served by public education, beginning with African American and Black boys and teens.
One strategy outlined is to recruit and retain more educators of color, so the diversity of staff more closely aligns to the diversity of the student population. Having teachers reflect the racial or ethnic makeup of their students has proven positive outcomes, especially for students of color. This is a priority that S360 staff care deeply about as our teams across the footprint work to enhance student success through more equitable access and opportunities in education.
Strategies 360 was selected to support a campaign that would engage and recruit diverse teachers and staff. Through S360's unique combination of tools and expertise, services, and deep experience in school district communications, Seattle Rising: a campaign to recruit teachers of color was launched.
S360 worked in tandem with SPS Communications and Human Resources staff, bringing along our full production studio, video team, communications and marketing content creators and a digital development team to produce and deliver all aspects of the campaign.
S360's education experts, Lesley Rogers and Rachel Nakanishi, along with Seattle Public Schools communications leader, Beverly Redmond, will be sharing their insights and best practices with school PR staff from around the country at the 2022 NSPRA National Seminar on July 18. Here, we outline how S360 and SPS worked together to implement the Seattle Rising campaign.
Like many school districts around the country, the demographics of the Seattle Public Schools staff and educators do not reflect the diversity of the student population served.
Student Demographics

Staff Demographics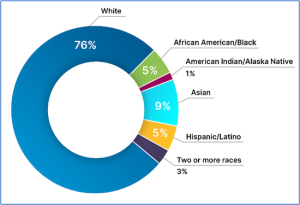 Research shows that all students benefit from having teachers of color. That is especially true for students of color who have better academic performance, improved graduation rates, and are more likely to attend college when they have teachers of color. When Black students have at least one Black teacher by 3rd grade, they're 13 percent more likely to enroll in college, with two Black teachers, they are 32 percent more likely to go to college; for low‐income Black boys, their on‐time high school graduation rate climbs by nearly 40 percent.
The S360 Education Team has built longstanding, trusted relationships with Seattle Public Schools, as well as our firm's own commitment to diversity, equity and inclusion. Our full-service offerings including research, branding, multicultural engagement, and K-12 communications made us uniquely positioned to support this important work. That is why Strategies 360 was brought on board to help Seattle Public Schools develop and launch a new, strategic effort to specifically engage and recruit African American/Black educators to Seattle.
What We Did
In developing the marketing plan, our goal was to position Seattle Public Schools as the district doing some of the nation's most transformative work. We approached this specific marketing plan using the R-PIE approach: research, planning, implementation, and evaluation.
To understand the experiences, benefits, and challenges of being a Black educator in Seattle, the first step was to interview current educators of color and hear their stories. These conversations were difficult for district staff to hear at times, but important in our work to better understand the current climate for Black educators at SPS. We also held focus groups and interviews with prospective educators in other parts of the country to understand their perceptions of the city and district.
We also audited current district recruiting and marketing efforts, including an analysis of what channels and messaging worked and where there were areas for growth or improvement. Our research included the latest best practices for teacher recruitment and marketing nationally, which we compared to the current district practices
Once the research had given us an understanding of the challenges and opportunities, S360 and SPS met regularly to develop and implement a thoughtful and comprehensive communications plan to support recruitment for the 2021-22 school year and beyond.
Together, we worked to sharpen our messaging, understand our key audiences and competition, and identify the right tools and channels to sharpen our outreach.
Our plan included innovative and creative solutions to reach a younger generation of future teachers. Working with a diverse internal team, and using the information gained from our focus groups, we made sure the work products were culturally appropriate and would resonate with our target audience.  Digital media was an important tool used to test and refine messaging throughout the process. Our team identified that Snapchat was the most frequently used social media for our target audience and leveraged this space in the plan to ensure our messages were connecting with our intended audience.
Implementation included two phases. The first was informing prospective educators about hiring events and increasing the number of Black educators that met with SPS hiring staff and applied for jobs. The second phase of implementation included personalized outreach to those candidates who had expressed interest in working for the district.
The S360 creative team created several tools to support SPS's presence at hiring fairs and the subsequent outreach. This included creating recruiting kits for both virtual and in-person job fairs; digital marketing ads: search, Snapchat, LinkedIn, Instagram; direct mail pieces for potential recruits who had been contacted at job fairs; content for website, social media, email templates; event kits: Poster, postcard, banner, table tent, stickers.
Our results
The S360 Digital Media team was instrumental in the success of the message testing and the awareness campaign around hiring events. All the paid posts performed above industry benchmark and allowed the team to refine messaging and targeting in real time.
While this work was implemented just as the COVID pandemic was taking off, Seattle Public Schools saw increased attendance of Black educators at their job fairs and in those who applied for jobs at the district. Additional preliminary data shows an increase in teaching staff who identify as educators of color. You can see here that the orange bars are growing. We still have a lot of work to do, but we are so pleased to see this increase in teachers of color, including Black teachers.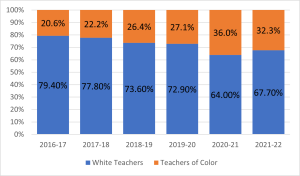 The S360 Education Team is here to support school districts as they expand their racial equity work. We can be reached at EdTeam@strategies360.com.