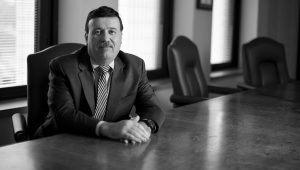 40-year power and natural gas industry veteran, Rich Riazzi, has joined Strategies 360 as Senior Energy Advisor focused on the Western U.S.
November 26, 2019
Seattle, WA – Rich Riazzi brings a deep knowledge of U.S. utilities and strategic business planning to help advise S360 clients in the S360 Western U.S. footprint on market opportunities, product and business development, and operational management. Rich recently retired as President and CEO of Duquesne Light Holdings, Inc., an electric and broadband services company serving 590,000 customers in western Pennsylvania.
"Rich knows this industry inside and out," said Ron Dotzauer, Founder and CEO of Strategies 360. "His insights will ensure clients across the firm will be able to meet the needs of their communities with the latest renewable and clean energy sources while keeping business operations humming."
For the past 9 years, Rich transformed Duquesne Light Holdings, Inc. and its subsidiaries, improving company culture and performance, while lowering operational risks. Notably, Rich led efforts to divest the Pennsylvania-based company from two coal-fired power plants. Under Rich's leadership, the company also improved its safety, operational and cost performance metrics from the bottom industry quartile to the top quartile. Rich's success came from a keen focus on customer service and satisfaction. From better infrastructure and product options, to more integrated technology that connected customers to more information about their own electric use and accounts, the investments Duquesne Light placed in their customer experience lead to greater business success.
Rich knows the west well. Prior to his time at Duquesne Light, he spent four years as CEO and General Manager of the Chelan County Public Utility District in Washington. The Chelan County PUD is an integrated utility generating hydro, solar and wind power. It offers electric, wastewater and broadband services to the County. During his tenure, Rich steered the utility through the last recession and set it up for long-term success with a plan that pays down debt, builds reserves, and avoids large rate increases. Rich worked closely with customer-owners, elected leaders, and staff to realign the organization to preserve vital utility services for the region and meet the needs of the community.
Previously, Rich held various management positions at Idaho Power and its parent company, IDACORP, Inc., including as President and CEO for IDACORP Energy, L.P, the energy marketing arm of IDACORP, Inc. Rich applied his marketing background to build the business, driving sales growth, profitability and performance improvements. In his early career, Riazzi spent fifteen years with Equitable Resources Inc. (now operating as EQT Corporation) in various management positions in corporate development and marketing, first with Equitable Gas Company and later with its Energy Resource companies.
"I am excited for this new chapter in my work," said Riazzi. "The biggest impact I can have is to build up the next generation of utility leaders to effectively address the energy challenges of the future. Working with S360 is the perfect opportunity to do that."
A native of McKeesport, PA, Riazzi earned his bachelor's and master's degrees at the University of Pittsburgh. Rich has been an active member of numerous community and industry organizations, including serving on the boards of the Allegheny Conference on Community Development, the United Way of Allegheny County, Junior Achievement of Western PA, the Pauline Auberle Foundation and the Edison Electric Institute (EEI).
You can reach Rich at RichR@strategies360.com.
Photo Credit: Cayla Zahoran, Whirl Magazine