Next Steps Idaho
The work we have done on Next Steps Idaho has been a hallmark of our education practice Statewide and a source of pride for our team and our firm—and we have seen the efforts of our collaboration with the Office of the State Board of Education bear fruit.

Idaho's students now have access to a comprehensive, easy-to-use resource for young Idahoans considering college or some other form of postsecondary training.  The strong brand foundation we have developed allows us continues to evolve to help even more Idahoans, with adult learners as our next target audience for 2020-21.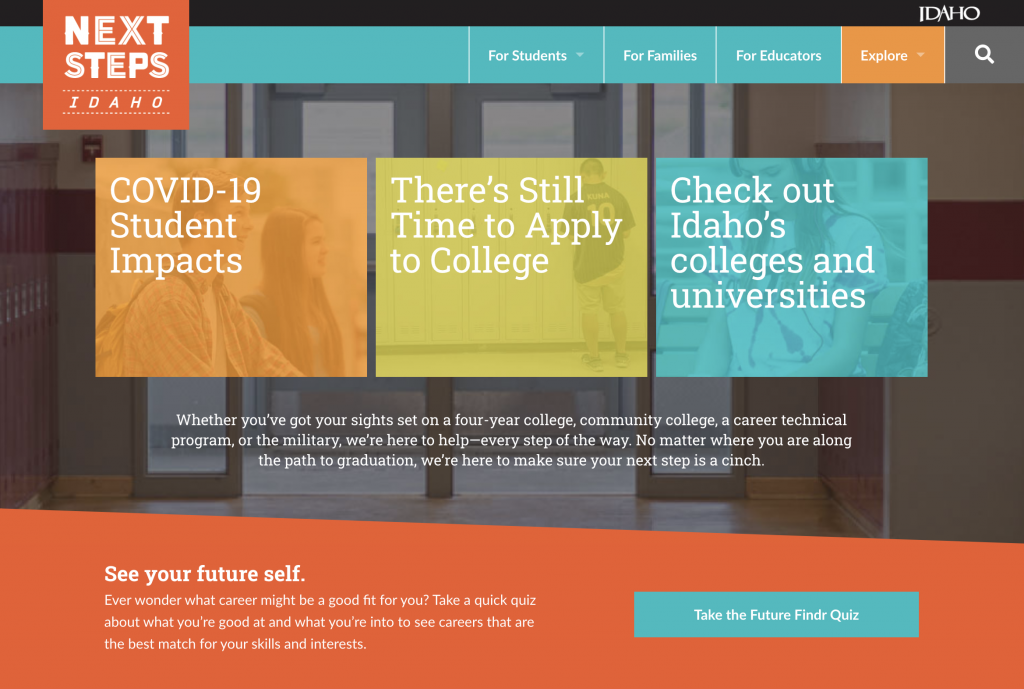 Strategies 360's role was to take one key objective—to get more Idaho students to consider and eventually enroll in post-secondary education—and figure out what tools and communications would most effectively support this goal.   We developed and executed a statewide research plan; analyzed our findings in order to create the brand; developed and wrote copy for a website of college preparation resources; launched and managed a communications campaign to publicize the website (and the related Direct Admissions program); evaluated how the campaign could scale as more funding became available; wrote and designed an outreach toolkit to support continued awareness and growth, and most recently launch a campaign in Spanish and English directed at parents to compel their students to visit the site and learn about their options.  
Since 2016, Next Steps has served more than 250,000 users and tens of thousands of students have submitted applications to Idaho's public colleges and universities using the common app hosted there.  The website is required training for new college and career counselors and is presented as the primary tool for helping Idaho students plan for college and careers. Owing to its success, S360 is now under contract to re-envision Next Steps as a resource for all Idahoans, expanding the brand and content to serve adult audiences in addition to students.