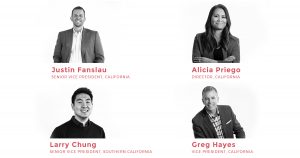 SACRAMENTO – Strategies 360 (S360), recognized as the top, leading-edge public affairs firm in the western United States, announced today the opening of its Sacramento office to join its offices in 12 western states, and the addition of a veteran strategist to lead its existing Los Angeles office.
Leading the Sacramento office is well-known legislative and public affairs consultant Justin Fanslau, joined by long-time communications consultant Greg Hayes and experienced legislative advocate Alicia Priego. S360 also announced that one of Southern California's top public affairs advisors, Larry Chung, has joined the team to lead its Los Angeles office. S360 is the first public affairs and lobbying firm to offer a complete in-house digital and communications practice and will be combining that with its new team members' experience to offer a first-of-its-kind public affairs resource for clients seeking to impact California policy and regulation.
Fanslau has carved a niche in the technology sector assisting many startups navigate the legislative and regulatory environment in Sacramento. He is the principal outside advocate for TechNet, which is the bipartisan network of technology CEOs that promotes growth in the innovation economy. Fanslau's political experience includes work both inside and outside of the Capitol. He served as Legislative Director for Senate President pro Tempore-elect Toni Atkins (D-San Diego) and as Campaign Manager for Assemblymember Adam Gray (D-Merced). His background also involves experience with housing and the environment, and consulting with California's building and construction trades unions.
Joining Fanslau is Greg Hayes, who has a diverse business, public and governmental affairs background. Hayes has been lobbying in recent years for a variety of private sector clients in the entertainment, financial services, natural resources, and technology
sectors. Prior to that, he served as Communications Director for Senate President pro Tempore Kevin de Leon (D-Los Angeles). Hayes also was an entrepreneur in the green technology and financial service spaces, helping to commercialize the nation's first high-solid organic waste-to-energy system. Early in his career Hayes worked in the California Senate and most notably as Press Secretary to Senator Art Torres (D-Los Angeles) both in the Capitol and in Torres run for California Insurance Commissioner.
Rounding out the new Sacramento team is lobbyist Alicia Priego. Priego joins Strategies 360 with 15 years of state government affairs experience with expertise in energy and transportation policy. She most recently worked for Sempra Energy and previously served as Legislative Director for Senator Jim Beall (D-San Jose). Priego also serves on the board of California Women in Energy.
Chung, who will be leading S360's Los Angeles and Southern California offices, specializes in public affairs and government relations. Prior to joining the team, Chung spent several years consulting in technology, entertainment, and telecommunications to Fortune 10 companies. He also served as a senior aide to California Assembly Speaker John A. Pérez providing strategic counsel and coordinating all communications between internal and external stakeholders for the administration. He currently serves as an appointee of Assembly Speaker Anthony Rendon on the California State Bar Lawyer Assistance Oversight Committee and as an officer and board member for the Korean American Federation of Los Angeles.
S360's expansion in California builds on the firm's existing footprint in the Golden State, bringing highly-skilled government affairs capabilities to S360's well-established public opinion research and marketing services in California. The four new hires will be joining the existing S360 team in California, including Senior Vice President of Research, Drew Lieberman, who leads the firm's top-flight public opinion research practice out of San Diego, CA.
With offices in 12 Western states and Washington, D.C., Strategies 360 is the leading public affairs, communications, research, and marketing firm in the west. With experts drawn from the worlds of government, politics, the news media, quantitative and qualitative research, advertising, marketing and creative design, S360 crafts and executes the strategies that help clients succeed.