KUOW - Puget Sound Public Radio
"The comprehensive expression of KUOW's brand identity means more people engage with what we do, and more engagement means more impact. We wouldn't have achieved this full-throated articulation of what KUOW does and stands for were it not for their expert guidance on our journey. They did so much more than mirror our thoughts back to us; they were our 'spirit guides' in revealing KUOW's true traits and values."
–CARYN G. MATHES, PRESIDENT AND GENERAL MANAGER, KUOW
For sixty-five years, KUOW 94.9 has been a pillar in the Puget Sound media landscape. Yet for much of that time, the station let other people define it.  Under new leadership, KUOW decided it was time to put a stake in the ground—to articulate exactly the kind of media company it wanted and needed to be. Truth, clarity, and understanding are part of their promise. The key difference is whether or not they are moving hearts and challenging your thinking, promoting understanding and broadening your field of vision. And they decided they wanted to go for it with a new mindset, a new look, and a new attitude.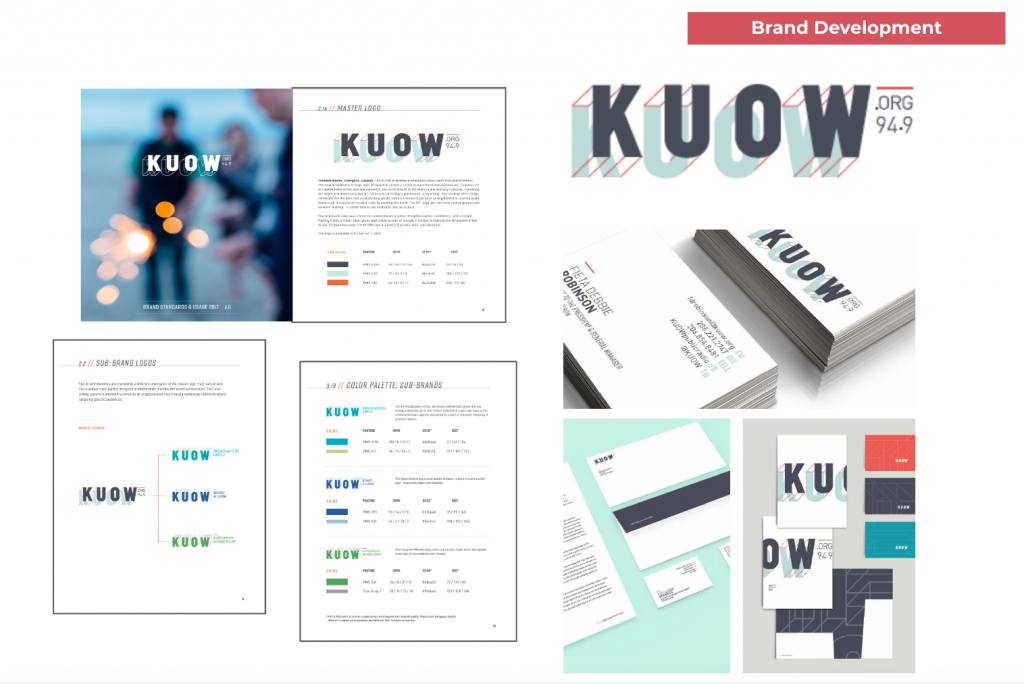 THE APPROACH The key to building out a comprehensive visual and verbal identity system is going deep.
And to go deep—to get to know your client inside and out—we needed to establish a relationship built upon mutual trust and respect, and anchored in friendship and fun. KUOW was our partner in this work from start to finish. They had a dedicated internal brand team who rolled up their sleeves and dug in, and leadership was totally engaged at every step. KUOW was at the table with us making decisions, settling differences, building alignment, and moving the strategy forward. This is how we work best: a strong relationship, incredible chemistry, and keeping it real.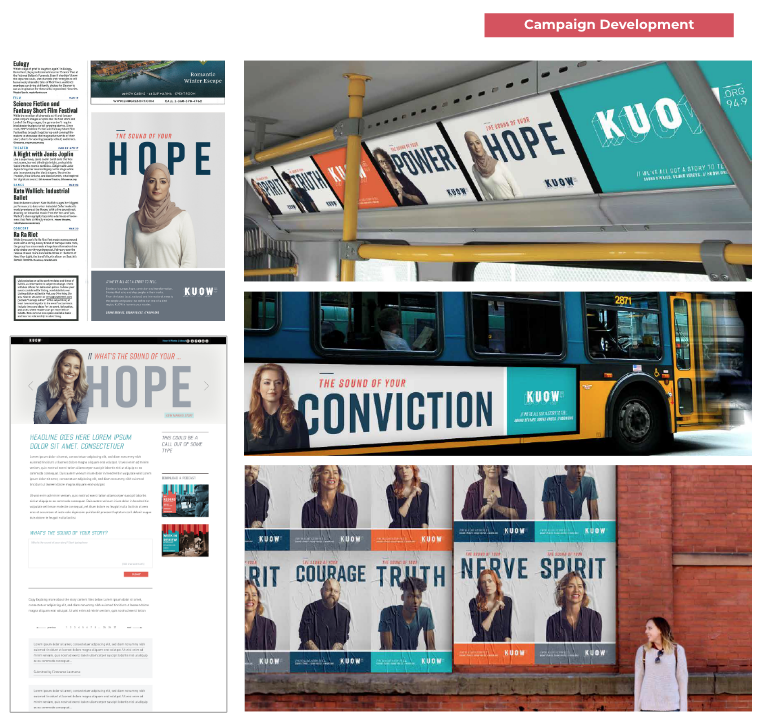 THE WORK After deep strategic engagement with KUOW, we tested the new brand with key audience members. The results of our consumer insight confirmed the new brand position, narrative, pillars and messaging would resound with KUOW listeners. From there we developed a full visual identity and an immersive marketing campaign to reposition KUOW in the Puget Sound region. Teaming with a renowned photographer, John Keatley, the visuals strike at the heart of the listeners – they're deep, captivating, and connected directly to personal stories.