Every April, Autism Acceptance Month is recognized across the United States. S360 is proud to support the Autism Society with their communications and digital marketing goals for the month. Strategies 360 was first engaged by the Autism Society of America in 2021 to support national communications outreach for Autism Acceptance Month. Our task was to shift the public narrative away from using Autism Awareness Month to Acceptance. Not only was S360 successful in earning national media for our client, including Op-Eds placed in The Hill and the LA Times, our team was able to deliver significant regional media attention across the country for the shift in language.
In 2022, our goal was to amplify the newly launched brand identity and their campaign to #celebratedifferences within Autism Acceptance Month activities. We developed messaging, multiple press releases, social media content, blog content, sample letters to the editor, and a 16-series email drip campaign for AAM fundraising for all the Autism Society affiliates to use as needed to support on the ground, grassroots fundraising.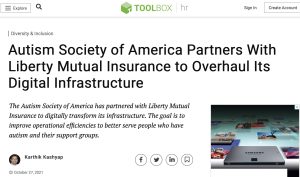 Beyond traditional communications services, our team has developed relationships with Autism Society's corporate partners to amplify stories that feature some of the nation's largest companies giving back their time and contributing financially to the organization. Our team developed a multi-pronged press outreach strategy that engaged health, business, entertainment, and non-profit industry media sharing multiple stories designed for each media focus area.
The 2022 Autism Acceptance Month media campaign landed unique earned stories in USA Today, Forbes, and the San Francisco Chronicle, among the many other regional and local media outlets sharing hometown stories by working with Autism Society affiliates. Interviews were arranged with sources for Yahoo Finance, Healthline, and multiple local radio and television stations around the country. Some reporters directly used content S360 developed and shared from 2021 and 2022, demonstrating the long-term impact of our communications work.
In total, our work helped secured nearly 5,000 mentions for the Autism Society across the country in March and April, and the media placed garnered over $49.5M in ad value equivalency!  Importantly for the goals of the Autism Society, their positive brand sentiment increased 75%.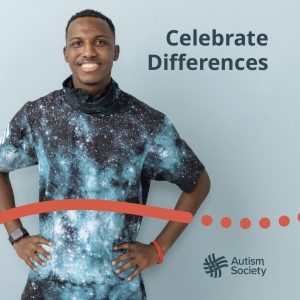 A companion digital media advertising strategy was developed for Autism Acceptance Month as well. From the campaign's Mid-March launch through the month of April, S360's digital marketing team ran a lean budget and tailored the campaign to attract specific target demographics in ten media markets. The campaign performed above benchmark for paid search, Facebook, and display ads generating over 1.6 million impressions driving tens of thousands of new users to the Autism Society website.
BRAND ROLL OUT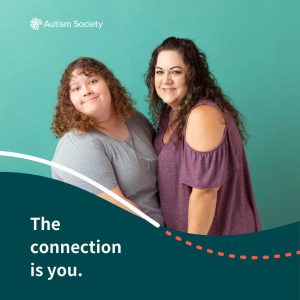 Prior to Autism Acceptance Month in 2022, S360 also helped the Autism Society launch their new brand. S360's communications team went into action developing the comprehensive supportive messaging for the brand, talking points and FAQs to address the major shift in not just the look and feel, but in the iconography traditionally associated with Autism. From that messaging, we developed press releases, blogs, a fundraising email drip campaign for Giving Tuesday, and social media content. Our work also included outreach to target media markets for placement of the Autism Society's newly developed PSA.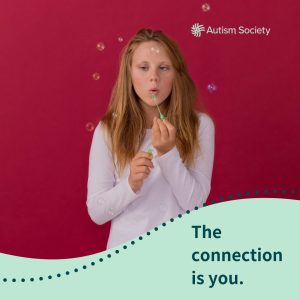 Beyond earned media, S360's Digital Marketing team pulled together a paid media campaign to run following the brand launch. The team leveraged the PSA to run as pre-roll, as well as managed static assets for social and display ads across target media markets. We also ran paid search, driving significant interest into the Autism Society's helpline. In fact, since S360 started managing the organization's digital marketing, calls or emails to the Autism Society's helpline increased an average of 187%! With our review of the most effective search terms, S360's communications and digital marketing team worked together to update creative and drive even more attention to the Autism Society, which helped immensely moving into Autism Acceptance Month.
"It has been a pleasure to work with the team at S360 over the past 18 months. Our working relationship has expanded as our needs and goals evolved; we have seen a direct return on our investment in the areas of brand awareness, donor acquisition and fundraising, and inbound inquiries through our National Helpline. We sincerely value S360's strategic guidance and their commitment to the cause of our organization." – Kristyn Roth, Chief Marketing Officer
We are incredibly proud of our partnership with the Autism Society of America and share their values of inclusivity, diversity, and acceptance. The Autism Society is the oldest grassroots Autism non-profit in the country. With 70 affiliates supporting over 600,000 people annually, the Autism Society's impact on the lives of Autistic individuals and their loved ones is immense. To learn more, visit www.AutismSociety.org.
Get to know more about our Communications Practice here.