Seattle Public Schools Recruitment
Seattle Public Schools Recruitment Campaign
Seattle Public Schools has an uphill climb when it comes to recruiting Black and Brown teaches in one of the whitest cities in America. We aimed to develop a sustainable, strategic recruitment program to help sell not only the school district, but Seattle itself, to graduating teachers of color in the US.
The Challenge
The percentage of Black teachers in the US hovers around 7%,  making new graduates highly sought after. And, putting Seattle at an even greater disadvantage for recruiting. We were asked to help shift perception with graduating Black educators in the country, and ideally open the door to conversations, and interests, from those educators. 
The district has developed a dramatically unique, and innovative, strategic plan aimed changing broken systems and undoing legacies of racism in public education.  But, putting that plan into action is the greatest challenge.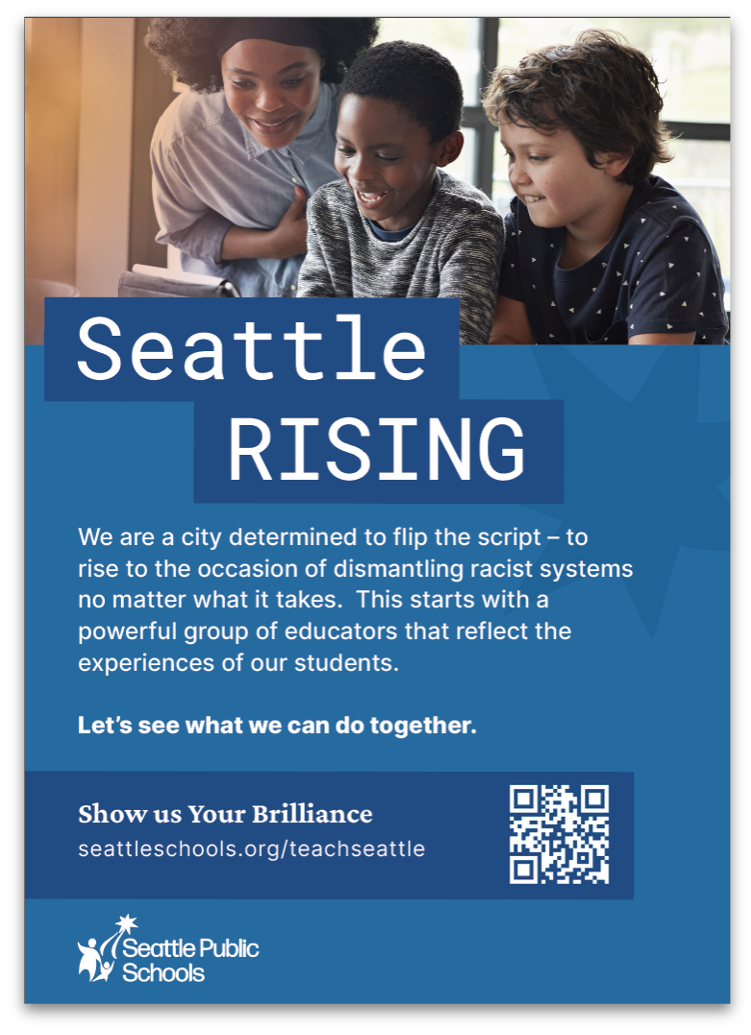 Our Approach
Listen, and listen well. That was out first step. Talking to current educators in the Seattle system, asking the tough questions regarding what it's really like to teach here, and what is the the biggest obstacle to moving and living in Seattle. Then, we looked at the demographics of the country, where Black educators were coming from and reached out for some small focus groups and one-on-ones to test creative concepts and messaging. 
The final campaign "Seattle Rising" was then developed to work across paid, owned and earned channels. 
Our budget was also not huge, and paid media was especially challenging. Through collaboration with multiple organizations within the district we developed a more efficient application of creative – so that different groups within the distinct could slightly alter the message to be more applicable to their recruiting efforts.