Idaho LAUNCH, Workforce Development Council
Idaho has some jobs to fill. As the need for skilled labor rises, the need to build a workforce to match demand becomes a bigger and bigger challenge. 
Understanding the Landscape   We started by homing in on a specific target audience, building a clear profile, and developing media opportunities that most effectively reach young adults, ages 18 to 35. A competitive audit was developed to paint a full picture of the current environment in which we would be competing.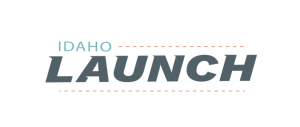 Our Approach We developed a brief that challenged the media and creative team to develop a program that was dramatically distinct from the oversaturated world of job sites, training programs, and government services.  Our approach was a moonshot to lift up all of Idaho, one person at a time, by building a people-first brand and campaign.  And, most importantly, we sought to develop a brand that represents the Idahoans it serves, not the institutions that serve them.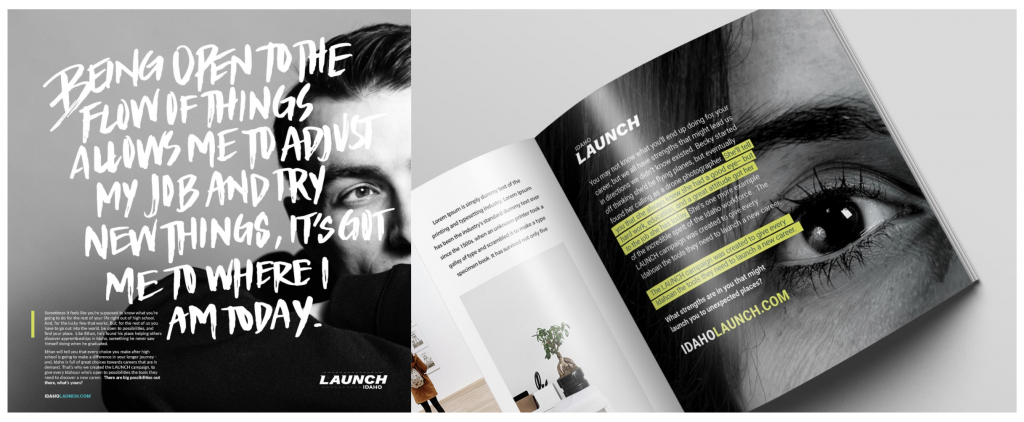 The Campaign We developed the "Idaho Launch" campaign, from brand development through campaign.  The core idea was that through demonstrating the success and the shared individual spirit of their neighbors, our target would find the inspiration to discover their own path towards career success.
Our media plan considered the most efficient access points and hyper-targeted our audience, incorporating both search, social, radio, out-of home/outdoor (OOH), grassroots and print in a rolling execution that allowed optimization throughout the campaign. All efforts drove to a dynamic site developed in house and updated often as the campaign develops.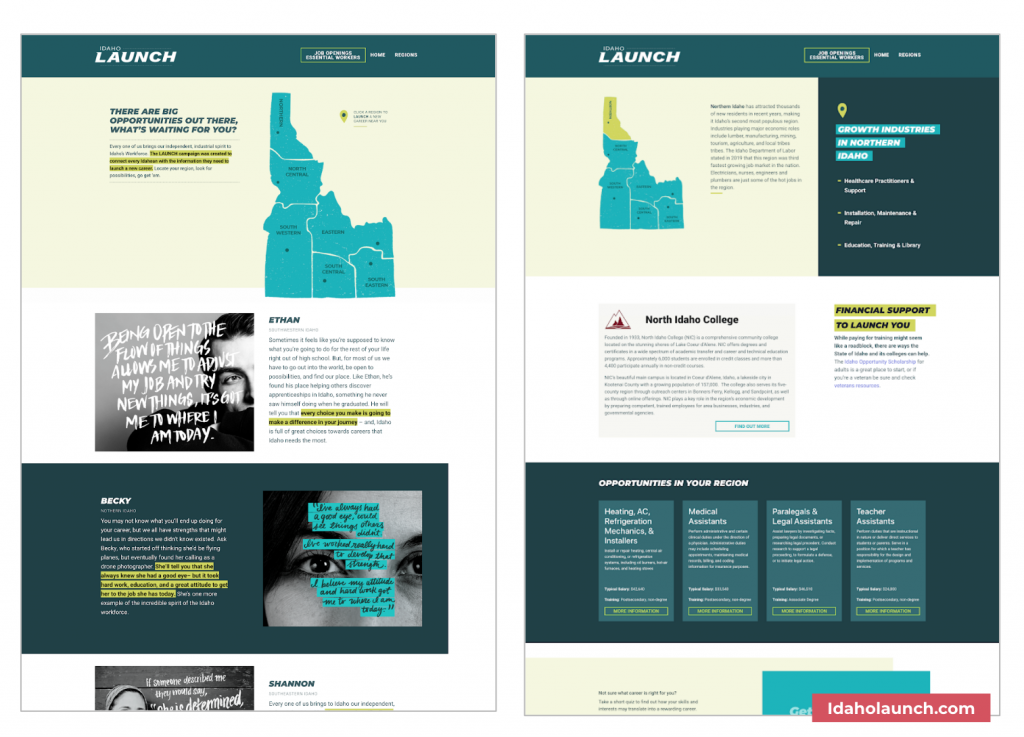 COVID CONSIDERATIONS. Right before the launch of the campaign, COVID-19 came and shook our world.
The foundational elements of this campaign were solid but flexible,  allowing us to step back and reevaluate the media plan to accommodate the foreseeable media landscape. We adjusted our hyper-targeted approach and leaned into a statewide search, sponsoring placements to test the efficacy of messaging for all of Idaho. Then, we intend to follow quicky with a streaming audio, social, and display campaign informed by our initial efforts.  With optimism, we are planning a regionally targeted grassroots OOH and print element for the final stretch of the campaign.
Because of the thorough discovery and campaign plan that was developed initially, we were able to pivot quickly and accommodate even the most surreal marketing landscape.